0
HMO. The frankenskidder.
tramphunter
hmo
Vol. 1:

----- HMO 4.3 V8 -----
If you've been involved in drifting for more than a year you'll probably be aware of the first incarnation of HMO, the fire spitting 4.3 TVR engined E36 monster Gibson built.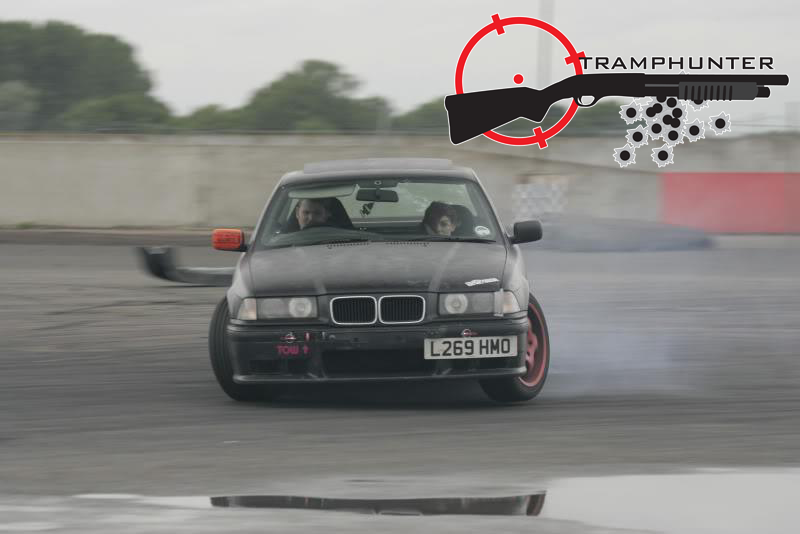 The thing was so loud it brought Santa Pod's pit area to a silent standstill the moment it was fired up, but it had its problems, mostly reliability - it didn't have any.
When it worked it was truly brilliant, went where it was told to go, held the angle needed and most importantly, smoked like an oil fire! Problem was it was seldom seen to happen, the alloy block v8 was just too weak to take the strain thrown at it and would often give up the ghost.
After over a year's worth of building and testing the decision was made to pull it apart and start again when it dropped its oil pump on track. Which brings us to the current version.
HMO 2.0
After dropping its oil pump at pod the decision was made to pull HMO to bits and start again, but with the shell cut about to fit the V8 a reshell was needed, so, everything was pulled off, the useful stuff put to one side for later, and the rest was sold on or scrapped.
The search for a new car came to an end fairly quickly with a 2.5 auto at a pretty cheap price, this was collected and the tear down started immediately, with the auto setup swapped out for manual and a small case diff fitted the drive train was sorted.
Coilovers sorted the ride height and every bush was swapped out for a poly version. To keep some of the original HMO alive the front end from the V8 was used, front wings, bonnet and M3 bumper made their way on and a set of Rondells were squeezed under the arches.
For a bit of chassis stiffening an x-brace was fitted and a room bar installed in the cab. Of course Gibson's own Gibfab lock spacers and camber kit found their way onto the car.
Interior wise pretty much everything was pulled out and thrown in the scrap pile, a set of reclining buckets with harnesses and a horizontal hydro made their way in and a Chizfab wheel fitted and that's about it.
With the car ready to go it was dragged to Pod for a shakedown, with only a few issues with the poly engine mounts early on in the day it was a pretty successful test. There was however, one major problem and it wasn't with the car!
Gibson had quite quickly realised that he had been spoilt in the power department by both the original HMO and the Shiny Shiny 328 that was used alongside it that later made its way to Smiffy.
So once again the decision was made to pull the car apart, just not too drastically this time, the 2.5 was sold on and a 2.8 was sourced. Between the new engine and gearbox lurks a 323-328 hybrid paddle clutch that was put together from two kits on the day of fitting. The engine was blessed with an M50 manifold and throttle body along with a reworked version of the V8's twin exit exhaust. After a few drift days the diff has been swapped out from a basic small case conversion to and E36 328-E30 325 hybrid hyper diff.
On the road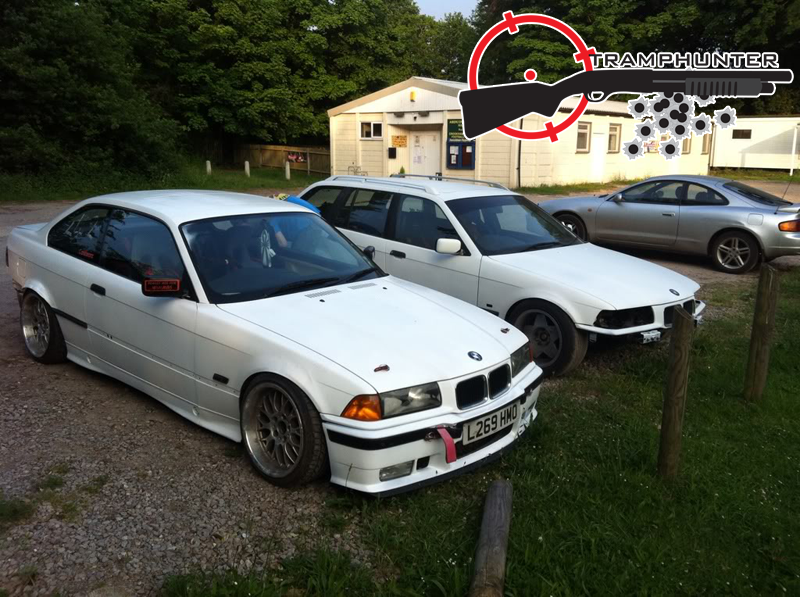 Having had the pleasure of driving this on the road I can give a real world insight to how it feels, it quit simply brutal. Ever had the feeling that your spine is going to exit the top of your skull when your drive over a Rizal? I have!
But it's in this brutality that you find trust in a track car, the simple fact that you can feel every bump, crease and divot in the road only accentuates the driving pleasure.
You know exactly what's going on at all times giving you the confidence to do what you want to do. Even with the small case diff that was fitted when I drove it, coupled up with the M50'd 2.8 up front you have the confidence to chuck it about in the corners, even when you don't want the back end swinging about like a pendulum.
The Suspension is just right, along with the plethora of poly bushes it really does handle like a dream. The sound track you're treated to on the trip is beautiful, a deep raspy note on the power followed by a deeper gurgle, pops and bangs when off it.
There really was a very good reason that when I got my own 328 I decided to copy HMO down to the last nut and bolt, just in saloon form!
On Track
Now I've never had the pleasure of driving this on track but I have spent countless hours in the passenger seat, so this is from an observer's point of view.
Poised, Nimble, Aggressive. The three words that sum this up really, with the suspension set up the way it is along with the full set of of polyurethane HMO makes things look easy on the limit, it doesn't work against you, it works alongside you, almost egging you on to go harder.
I have the habit of watching the driver when I'm riding passenger, instead of watching what way we're pointed, and from that viewpoint things look very controllable, where Gibson looks is where HMO goes and it does that smoothly and effortlessly.
The uptake through the rev range is brutal, hitting the limiter quickly in first and second, whether its holding 3rd on a nice long corner without bogging down or blipping its way round a hairpin in second it's always got the grunt to break into a nice controlled slide.
This is again all helped with just how well the chassis is set up. With the rear camber control arms that are on their way to being fitted things can only get better for HMO's drivability.
Of course there has been the odd off, seeing it plough though a large amount of railings at Pod was a highlight of mine, it came through pretty unscathed as well. But being a BMW that's too be expected, bashed the flatted arch back out and she was good to go.
Mike@TDSW (veteran of just about every E36 in just about every state of tune imaginable) had this to say about HMO:
It's fricking awesome for a budget build. I've owned loads of E36s and it's up there with the best of them - pulls hard for a 328. Honestly, power and some ultimate refinement/fine touches aside it's not dissimilar to drift than my M3 - and that owes me about 8 grand!
Without taking it on track myself that's about as much as I can give you for the moment. But from what I've seen, and I've ridden in 30 plus E36s at this point in time, this is one of the best all-rounders going. And I would recommend that anyone that's planning on building a track based E36 follows in the same direction as Gibson and HMO.
Article: HMO. The frankenskidder.